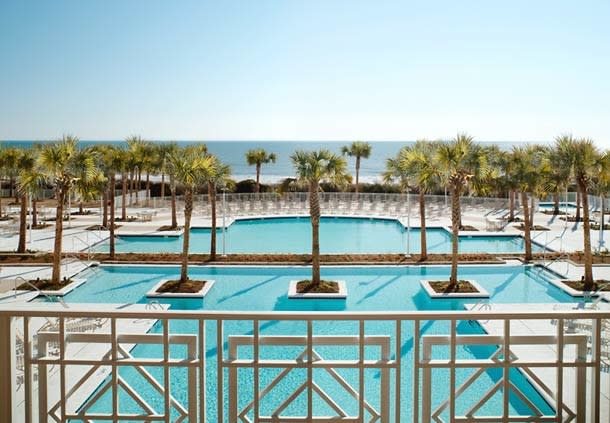 Editors note: This post was written by guest blogger Erin Pope.  
I always enjoy staying at Marriott hotels, but from what the locals told me as I landed in Myrtle Beach for the first time, I was in for a treat at the Marriott Resort & Spa at Grande Dunes. The hotel sits in a semi-secluded area off the main road and, as I drove up, I couldn't help but notice the cool little hideaways where visitors could grab a drink, take a dip in a pool or, if they have little ones, go for a ride down a waterslide. Despite the resort's size, they were still able to make it feel more intimate.
Once I made it into the hotel, I was blown away by the size and the incredible views. I was lucky enough to have an oceanfront room and was able to watch the sunrise reflect off the surrounding buildings and overlook the enormous ocean side pool. I was equally impressed by the free self-park parking - free is always a good thing in my book! Plus, as a runner, I was able to find some nice sidewalks to get in a few miles before starting my day.
It was amazing views, friendly staff and excellent service at Marriott in Grande Dunes.