As we head into the spring, our family is bound to be spending a good bit of time exploring Brookgreen Gardens. As the largest outdoor collection of American figurative sculpture in the world, Brookgreen has plenty to check out any time of year. But through May 13, 2018, attendees also have the chance to visit their one-of-a-kind dinosaurs exhibit. This exhibit is a first for Brookgreen Gardens, but I'm hoping it won't be the last time they host something like this.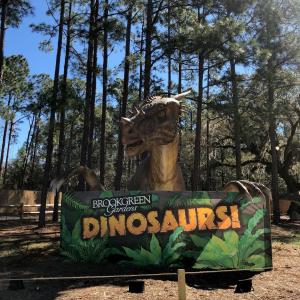 While my three-year-old tends to prefer tractors over dinos, he had a blast. The dinosaur exhibit features 17 very realistic dinosaur animatronics along an outdoor landscaped path. When you pass each dinosaur, a sensor signals various parts of the creature (eyes, head, arms, tail, etc.) to move! A few of them may have been a little scary at first for my younger crew, but we were talking about our visit all weekend so I know it was a hit.
Also along the trail is a station set up as a paleontologist campsite and showcases how paleontologists uncover dinosaur remains, and gives children the chance to uncover their own 'fossils.' Overall, it's a really neat educational experience, offering both facts about dinosaur history and Lowcountry natural history.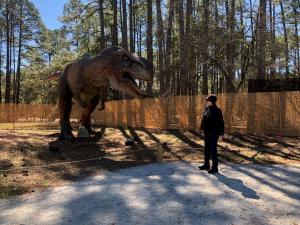 What to know before you go: the exhibit isn't included in your general admission tickets to Brookgreen. It's a special event and requires a separate ticket that you can purchase on-site. The cost is $8 for adults, $4 for children ages 4-12 and free for children under three. For those familiar with Brookgreen Gardens, the dinosaur exhibit is located inside what is regularly the Butterfly Pavilion and adjacent field. For those that aren't familiar with Brookgreen, following signs to the Lowcountry Zoo should get you to the dinosaur exhibit.
It's remarkable to see just how life-like these dinosaur animatronics are, and it's equally as interesting to see them juxtaposed under the magnificent live oak trees at Brookgreen. If you're planning a trip to the south end of the Grand Strand anytime before May 13, definitely add this to your list--especially if you have kids in tow. For more information or to purchase tickets to Brookgreen Gardens, check out their website at www.Brookgreen.org.