I am not a thrillseeker by nature. The times I rode the Slingshot in downtown Myrtle Beach and the Sky Coaster at Broadway Grand Prix were each well documented, so anyone can see firsthand my fear of heights is real. When Visit Myrtle Beach lovingly asked me to take a look at Myrtle Beach from above via a biplane, you can imagine my reservations.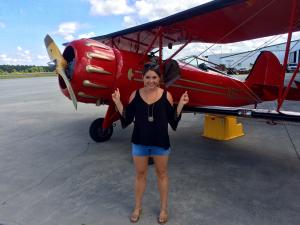 Was I confronting a slight fear of heights by doing this tour? Yes. Was it worth it? Absolutely.  Taking the 30-minute ride along the South Carolina coast in a biplane turned out to be one of the most fun things I've done while living in the Myrtle Beach area. It was like cruising the shoreline in a convertible from 1200 feet above sea level!
Myrtle Beach Biplanes operates a vintage, WWII-era Waco biplane out of Grand Strand Regional Airport in North Myrtle Beach. It is a striking plane, painted in bright red and gold, and possesses definite power and agility. Our pilot and guide was Pete, who was both entertaining and knowledgeable about what we were seeing below us. We were impressed by both pilot and aircraft before we ever left the ground.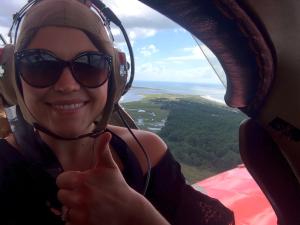 Our tour was 30 minutes long and featured an extended flight along the coastline. We saw Bird Island, Sunset Beach and Ocean Isle, NC. We flew down the Intercoastal Waterway, and I even saw my parents house near the waterway in Little River! Pete pointed out dolphins and other wildlife in the ocean and even took us on a couple fun little drops. I can say fun now that I'm looking back on it, but those drops definitely elicited screams in the moment. The tour does not do loops or barrel rolls though, and I was OK with that.
The experience of flying in an open-air cockpit was new to me. It is completely different than one of the area's helicopter tours. I could feel the wind and sun and playfulness of the aircraft throughout the ride. If you are an adrenaline junkie, an aircraft aficionado or just wanting to take a look at the area from above, I can wholeheartedly recommend giving this biplane tour a try. It's pricier than the average Myrtle Beach area attraction, but the individual attention guests receive and uniqueness of the experience validate that cost, especially when you consider fuel and other expenses that go into running a biplane tour.
T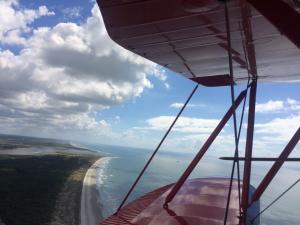 he 30-minute tour is their most popular, and what we did. I personally felt like it was the perfect amount of time to spend in the sky, and the $245 cost was manageable when split between two people. They have 'introductory' tours starting at $98 and continuing up in price and length to a full 60 minute flight. Flights run Tuesday through Saturday, from 10 a.m. to 5 p.m., and while there is not an age or weight restriction, all passengers must be able to be securely fastened into the cockpit.
Lastly, do not forget your camera! This provided some of the most interesting and memorable photos I've taken while living here along the Grand Strand. For more information or to make reservations, check out Myrtle Beach Air Tours website at www.mbairtours.com.
Watch the Video to Learn More About Myrtle Beach Biplanes Tours