As a longtime Myrtle Beach local, I've enjoyed the perks of not just growing up along our coast, but raising my children here as well. We're lucky that most summers entail a sort of 'staycation' for us and a chance to experience this beautiful destination as a visitor. And over the years I've had the chance to make note of the things every member of our family seems to enjoy. Since the Myrtle Beach area is blessed with mostly mild weather and a lot of sunshine, our three children spend most of their free time outdoors and on-the-go, and a lot our favorite family activities are outside—though a few offer the chance to get indoors and cool down! Here are some of our favorite activities you can do together with your family: 
1. Visit the State Parks
The Myrtle Beach area is home to two different South Carolina state parks, Myrtle Beach State Park and Huntington Beach State Park. While our family loves camping and both of these parks offer great camping sites, they're also perfect stops for a daytime visit. Daily admission is affordable compared to some area attractions, and your crew will be able to explore everything from hiking trails and nature centers to fishing piers and even a historic seaside castle. Find more information for both parks here. 
2. Catch a Myrtle Beach Pelican's Game
Even when your kiddos are too young to follow a baseball game, there is so much fun to be had at the TicketReturn.com Field on game nights. There is a playground, a Fun Zone, fireworks shows, visits with mascots and the chance to run the bases post-game, among many other special events and activities hosted throughout the year. The Myrtle Beach Pelican's Ballpark also offers weekly promos, like Wednesday BOGO hotdogs and Friday Night Family Meal Deal, where you can purchase 4 hot dogs, 4 soft drinks, and a bucket of popcorn for just $25 at the Home Plate concession stand. View a game schedule or buy tickets online.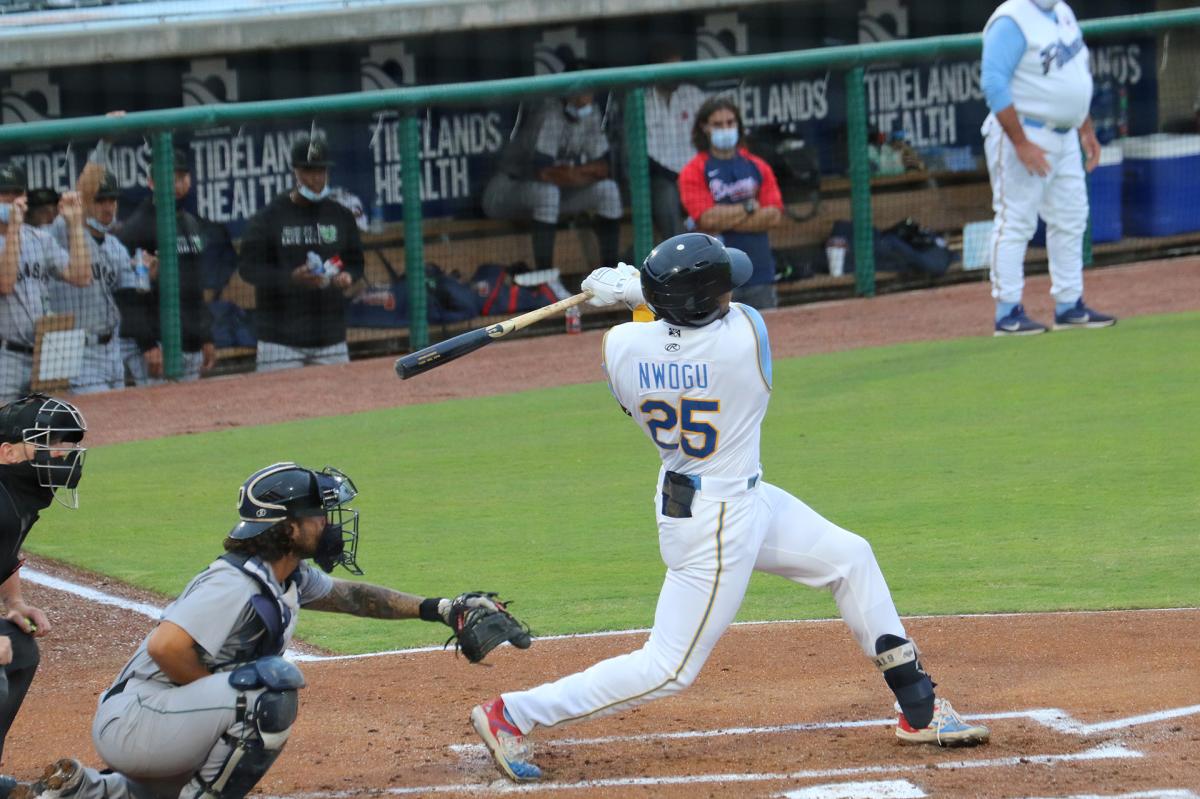 3. Play a Round of Mini Golf
While we don't necessarily get through a very strict game of miniature golf with our 7-year-old, 4-year-old, and 1-year old, we always have a lot of fun playing together. From towering dinosaurs to skeleton-clad pirate ships, the Myrtle Beach area's many mini golf courses are a safe bet for family fun and usually easy to spot from the road! For families with slightly older children or those more intent on working on their swing, Topgolf Myrtle Beach is also a fun alternative way to 'hit the links' with kids while enjoying a little family competition. And the ability to make a delicious lunch or dinner happen while tackling a family sports activity is the icing on the cake!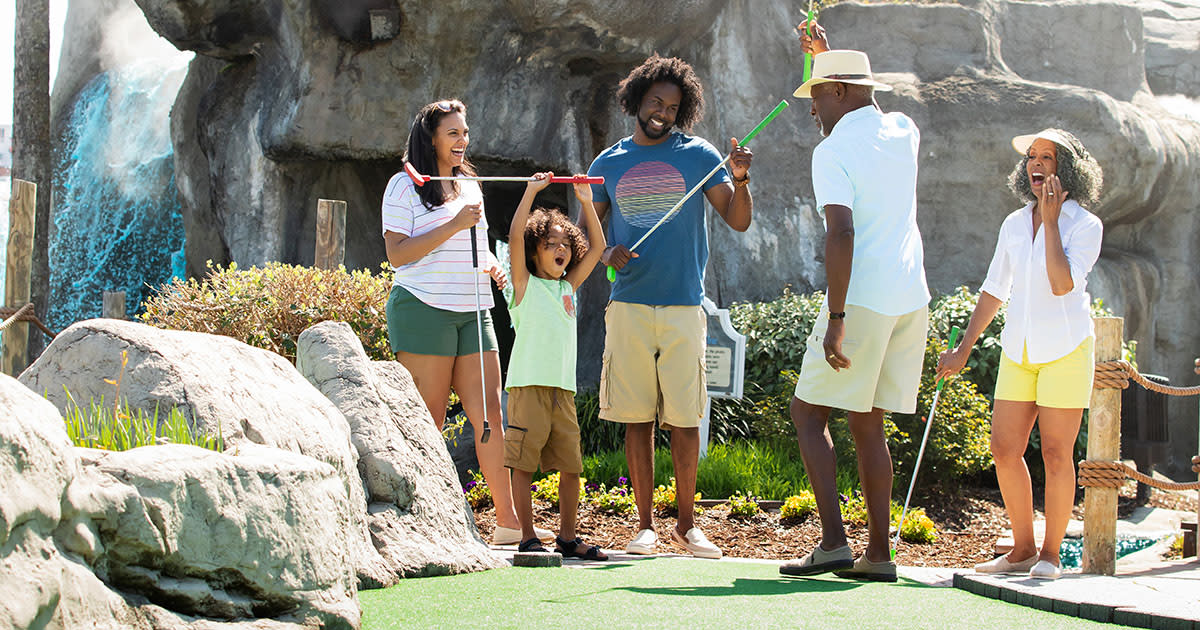 4. Broadway Grand Prix
This fantastic family attraction is near popular Broadway at the Beach and offers a wealth of fun for all ages. It's home to seven Go-Kart tracks, including a Family Track, Kids Track and Jr. Racer Track, and rides like the Kiddie Speedway, carousel, bumper boats, and much more. Your group can cool off indoors at their new arcade, featuring 20,000 square feet of over 90 arcade games, and then head back outside to enjoy two 18-hole mini golf courses or the rock climbing wall. A day spent at the  Broadway Grand Prix is a day packed with excitement—for both parents and kids—and the memories will last for a long time. 
5. Brookgreen Gardens
It's hard to decide when the best time of year to visit Brookgreen Gardens is, so we'll just settle on any time! Located in Murrells Inlet, South Carolina, Brookgreen Gardens is a nearly 10,000-acre sculpture garden and wildlife preserve featuring the largest outdoor collection of American figurative sculpture in the world. Beyond the breathtaking works of art found throughout the gardens, Brookgreen is also home to a fantastic Lowcountry Zoo and Lowcountry Trail, Butterfly House, and 'Children's Garden Room,' among many other scheduled events and activities hosted throughout the year for families and children. Our children leave Brookgreen 'happy tired,' as we like to call it, and we're always on board with spending a day there. For more information, visit Brookgreen Garden's website.
6. Go Out For Ice Cream
I'm not sure who is more excited—the kids or me—when we decide to go out for ice cream. The Myrtle Beach area is home to a number of great ice cream spots, which makes sense as the beach and ice cream go hand in hand. A few of our favorites have been around forever, like Peaches Corner in downtown Myrtle Beach, Kirk's Ice Cream Parlor in Myrtle Beach, or Original Painter's Home Ice Cream in North Myrtle Beach (supposedly Vanna White's favorite). While a newer favorite of ours is Melt, located on Main Street in North Myrtle Beach, and features flavors like Honey Lavender, Cookie Monster and Irish Car Bomb. At the end of the day, we're just happy to enjoy a sweet treat together.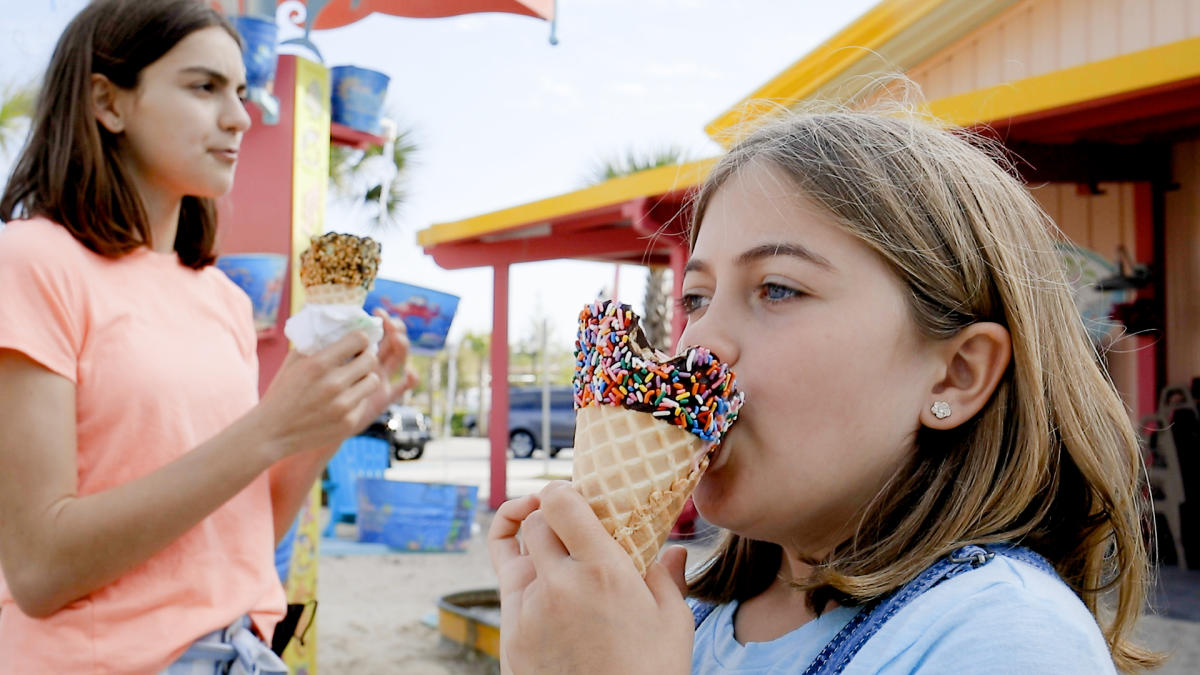 7. Barefoot Landing 
Barefoot Landing in North Myrtle Beach is a one-stop shop for fun family activities. This waterfront shopping, dining and entertainment destination is home to a number of kid-oriented events throughout the year with free concerts, fireworks shows and more. Barefoot Landing is home to a number of national retail stores, along with charming local boutiques, so those who love to shop are in luck. My kids love the large playground in the Dockside Village area, which always has a nice breeze as it's situated between the Intracoastal Waterway and Barefoot Lake. And I love that the playground is located next to two of our favorite family-friendly restaurants: Lucy Buffett's LuLu's and Crooked Hammock Brewery. Both of these restaurants cater to families in the nicest ways, with outdoor spaces for kids to play in and cool atmospheres for the adults. 
8. Enjoy Dinner and a Show
When it comes to visiting the Myrtle Beach area with children, it's almost a necessity to visit Medieval Times or Dolly Parton's Pirates Voyage or both! Despite having attended both shows multiple times, our boys still ask to spend their birthdays at one or the other, and we definitely think it's something families will enjoy again and again. The pre-show buildup is a lot of the fun, and we make it a point to dress up in costume a little. Our kids are always captivated by the performances as dinner is served, and we're able to sit through an entire meal! It's just an added bonus that the food is always delicious.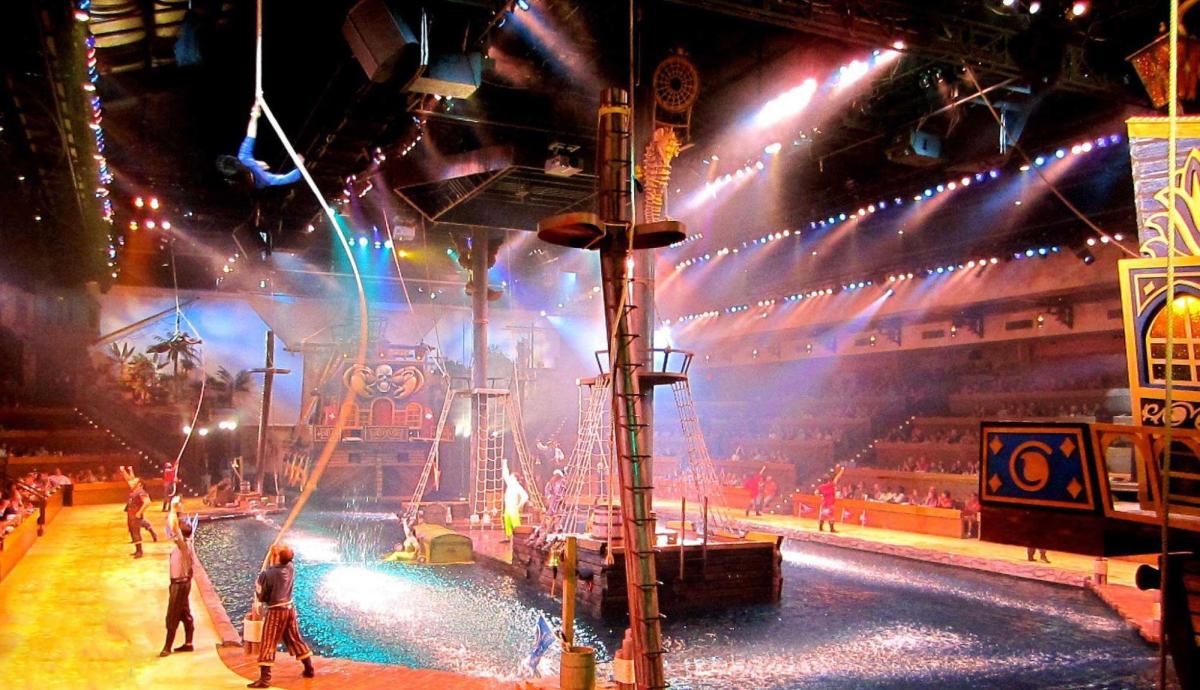 9. Myrtle Beach SkyWheel
The downtown Myrtle Beach shoreline just wouldn't be the same without the iconic SkyWheel! The Myrtle Beach SkyWheel is a 187-foot tall observation tower that provides sweeping views of both the Atlantic Ocean and Myrtle Beach coast, but also of the downtown Myrtle Beach area. The 42 air-conditioned, glass enclosed gondolas seat between 2 and 6 people, meaning that most families can enjoy this attraction while seated together. It moves slowly enough so as not to scare little ones, and offers a view that won't soon be forgotten. We also love the fact that the SkyWheel is situated right along the well-known Myrtle Beach boardwalk, which is definitely worth a stroll!
10. Ripley's Aquarium at Broadway at the Beach
You'll often find Ripley's Aquarium on lists of things to do when it rains in Myrtle Beach, but I'd argue it's worth a visit on even the sunniest of days! This multilevel aquarium offers an engaging presentation of marine life (thousands of species!) that both children and adults will love. Their newest addition, the Penguin Playhouse, is the current favorite exhibit with my crew, but I think it's hard to pick. All visitors are usually awestruck by the diving shows at Rainbow Rock and at the sharks swimming overhead in the moving tunnel. Special experiences like the glass bottom boat adventure, the stingray experience, or photos with mermaids can make your family visit even more memorable. Visit their website for tickets, events and more information.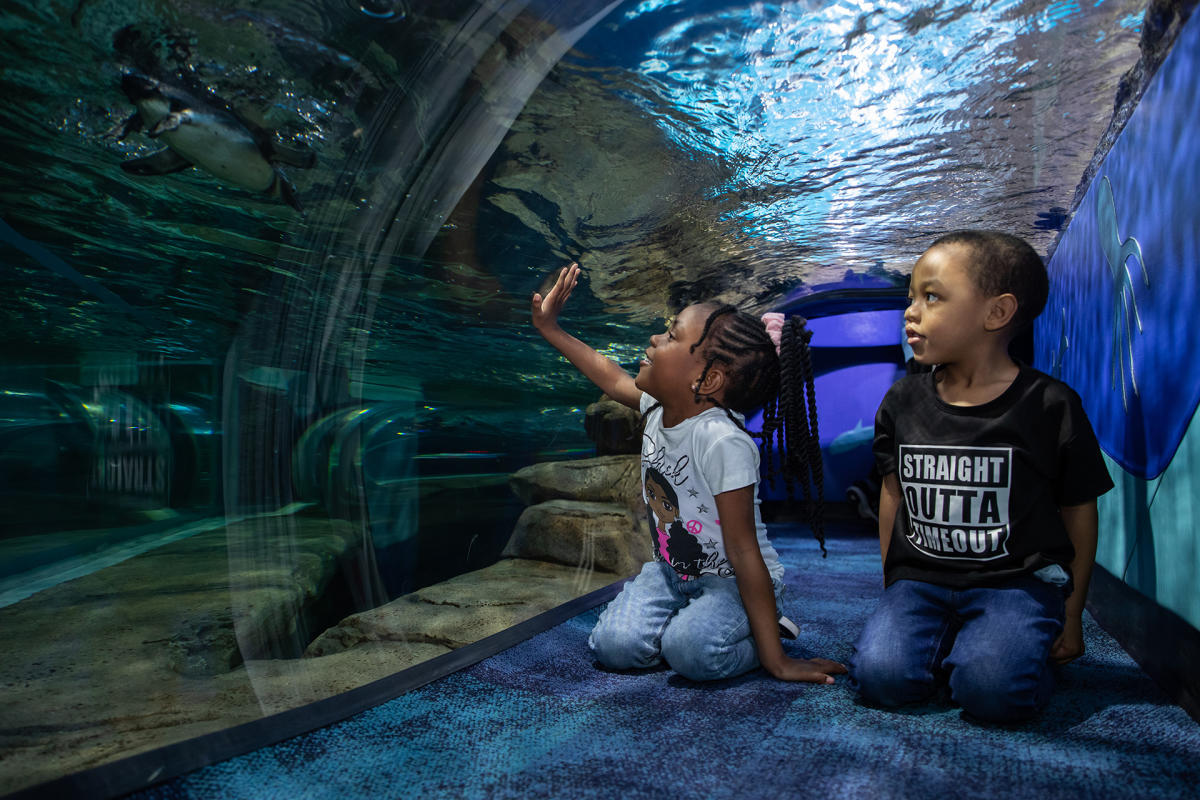 11. Bounce Around at our Trampoline Parks
As a mom of young children, I know just how wonderful it is to take your kids somewhere they can run and jump and play hard. Lucky for us, the Myrtle Beach area is home to two great trampoline parks that provide opportunities for kids to get some exercise while having a lot of fun. Rockin' Jump Myrtle Beach Trampoline Park is located close to downtown Myrtle Beach and is a great choice for when your family needs a break from the sun or to just get jumping. My boys love the ninja obstacles there the most. Big Air Trampoline Park is located a little further south in Myrtle Beach and is equally as fun, with plenty of arcade games to enjoy as well.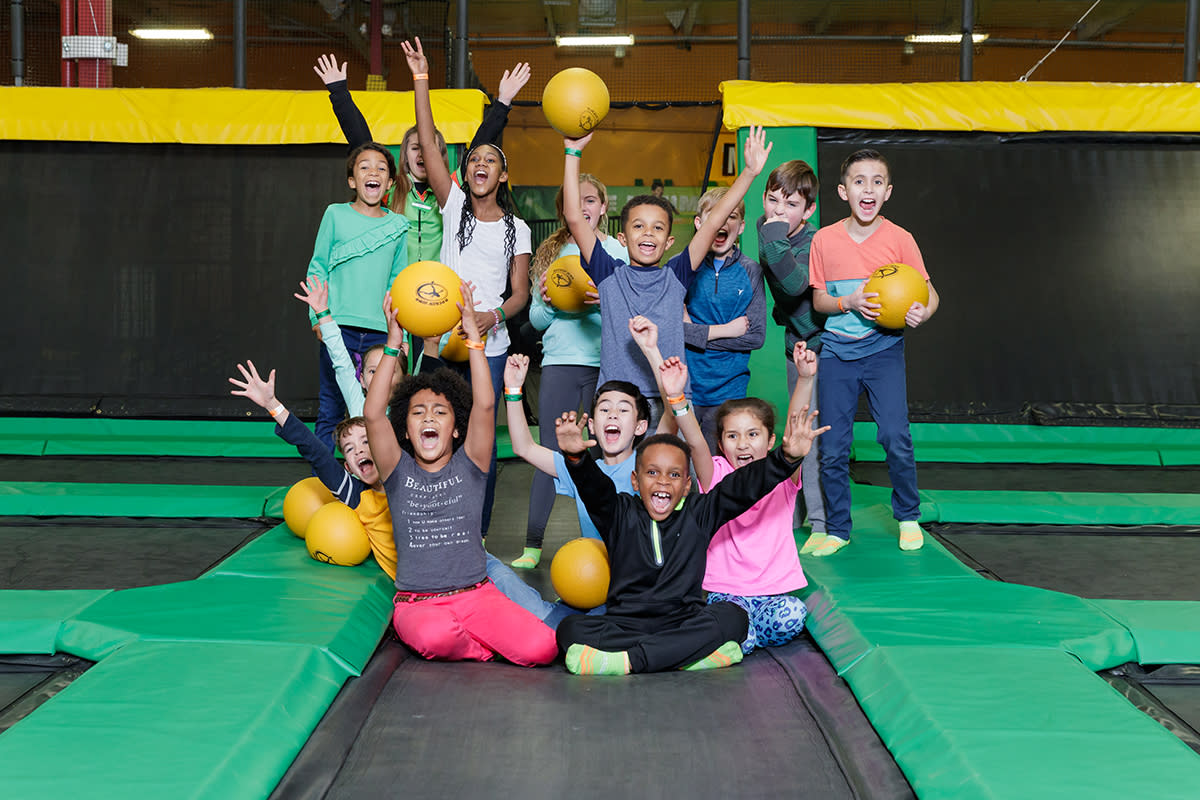 12. Go to the Beach! 
I think our favorite family activity of all time is spending a day at the beach together, and we're lucky we get to do it a lot! Going to the beach is usually free and easily entertains family members of all ages. While we love packing lunch and spending the afternoon in the sand and surf, there is also something to be said for early mornings on the beach together with a picnic breakfast in tow. From hunting for sharks' teeth to building sand castles, spending time on the beach as a family is a great way to create memories that will last a lifetime. 
The Myrtle Beach area offers a variety of accommodations fit for any type of family from beach houses to spacious condo suites. Find deals and more information on our STAY page.