While this holiday season may be different from years past, one family tradition that we can safely continue is a visit to The Great Christmas Light Show in North Myrtle Beach, South Carolina. Gates are open nightly beginning Thanksgiving weekend, and my mother-in-law and I drove through with all three kids last week. It was beautiful! And it was a perfect Christmas activity for social distancing as well since we stayed safely in our cars for the entire experience.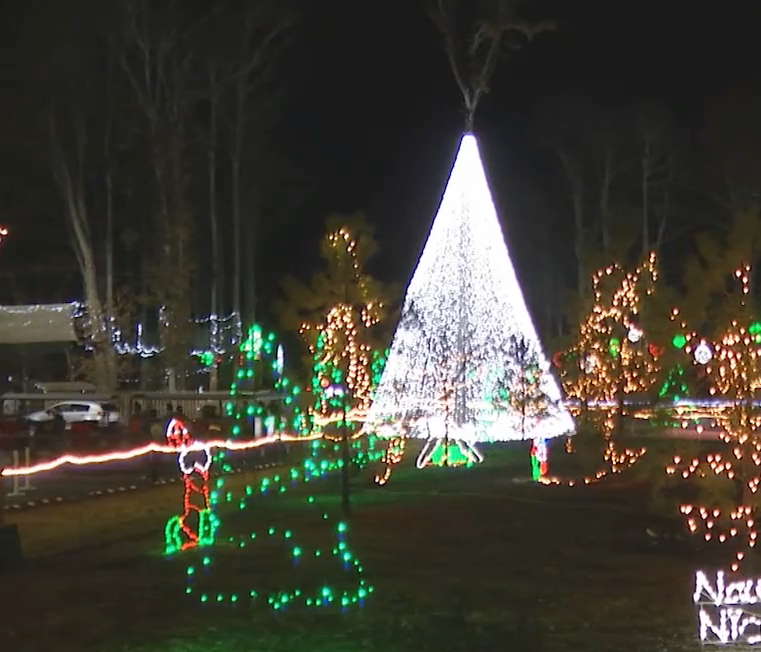 Every year seems brighter, and park employees confirmed it's because they're always adding new lights and fixtures to the abundant holiday spectacle. It features well over 2 million lights creatively displayed along a 1.5-mile drive through the North Myrtle Beach Park & Sports Complex. Over 500 magical light displays, some up to 70 feet tall, have been custom made for The Great Christmas Light Show, and visitors can experience over 20 animated figures and holiday scenes where the lights move and seem to come alive. The boys' favorite is always a scene featuring a battle between a dragon and a firetruck and water hose, while I love the drive-through tunnel portions the most. 
After driving through the light show, attendees are also able to park their car and visit Santa's Village if they choose, where they can enjoy hot chocolate and s'mores, get an up-close look at the lights on the Santa Express Train Ride, go through the Chris-Maze and face their photo taken with Santa! Just keep in mind that enhanced Covid-19 safety protocols will be in effect. This means that there will be mandated social distancing in lines for all activities, limited capacity at fire pits and in the maze, a protective barrier between Santa and attendees, and of course enhanced sanitation and mandatory face coverings. Packing some cash is a good idea, as they have lots of fun 'extra' activities, like the train ride. And don't forget to bring your camera. Photos with Santa are free, but visitors will need their own camera or phone to take pictures.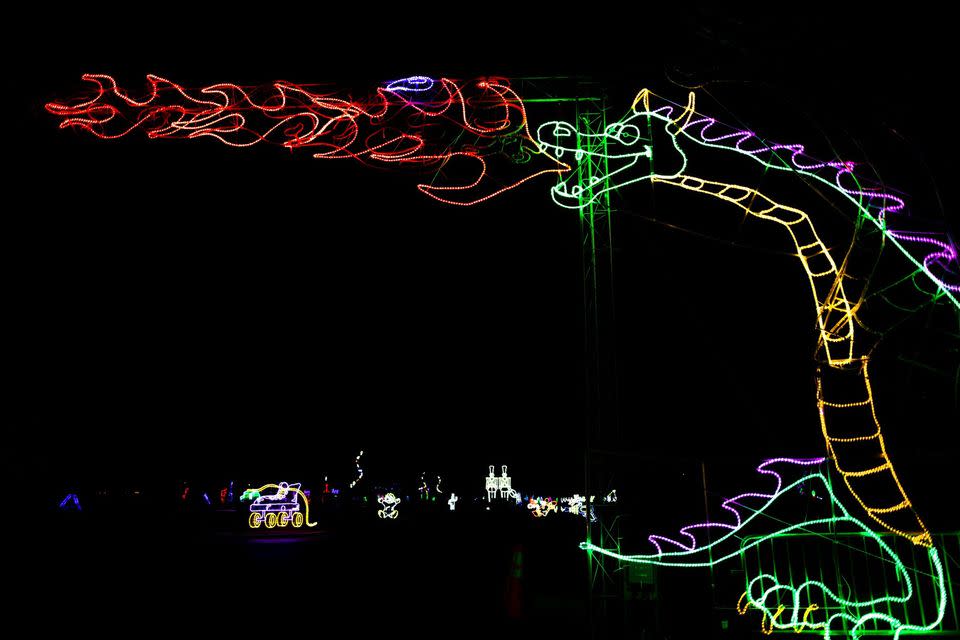 The Great Christmas Light Show is open nightly through December 30, 2020, with the exception of Christmas day. Gates open nightly at 5:30 p.m. and remain open until 9:30 p.m. Pricing is per vehicle, based on the number of guests. It costs $15 per vehicle with 1-15 guests, $30 per vehicle with 16-30 guests, and $60 per vehicle with 31+ guests. Event organizers recommend calling (843) 280-5570 to schedule buses. Santa's Village only happens on Fridays, Saturdays, and Sundays from November 29 through December 15. But beginning on December 19, it is open nightly with the light show! For more information on The Great Christmas Light Show, check them out online at NMBChristmas.com.
Visit the Visit Myrtle Beach Holiday Getaway Guide.