The beach is the classic summer vacation. Families drive hundreds of miles to spend a week with their loved ones at the shore. This annual family tradition can be seen in picture albums for decades. Now that spring is almost here, it is time to start planning your summer family getaway. Myrtle Beach is in the perfect location for many families to drive down with family and friends. From our beaches to boardwalks, the gorgeous weather and perfect location makes it ideal for families, large and small.
Our 60 miles of beach give you plenty of room to explore and you do not have to break the bank doing so. Myrtle Beach has great deals throughout the summer that make it the perfect affordable beach destination. Whether it's a well-priced hotel or a discounted family excursion, you can save money while having a relaxing trip.
Stay Where You Play
If you go to the beach in the spring or summer, Myrtle Beach has over 400 hotels for you to choose from. This means shopping for the best deal is super easy. For our spring travelers, you can save between 30-35% off on some of our best hotels. These hotels give you convenient access to the beach as well as other great activities that our city has to offer. However, we did not forget about our summer vacationers. These summer exclusives will have your family booking your trip for the next ten years. These hotels have many features including free tickets in the package. We think you should book them now before they are gone!
If you want to save a little more money with your accommodations, we recommend looking for hotels and resorts with mini kitchens. You can purchase meals and snacks ahead of time for your family. This will save you time and also money in your dining out budget.
Free Summer Fun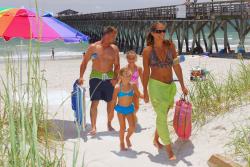 Now that you have your hotel booked, it is time to start planning your itinerary. Fill your schedule with activities, without ever taking a card out of your wallet. These free festivals and events will keep you busy from dawn until dusk. Festivals are great for adults and kids alike with live music and activities for adults and children. If you want to do some window shopping, Myrtle Beach has shopping malls, outlets centers and a 1.2 mile Oceanfront Boardwalk to tempt you with breaking out that credit card.
Low-Cost Entertainment for All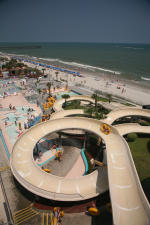 Now that you had your free fun, entertain the family for no more than $25.00 a day per person. Explore the latest events calendar during your stay with us. There are attractions and activities for all ages that are perfect for the family on a budget. Take a swing at our miniature golf courses, ride in a helicopter for $20 or visit the Family Kingdom Amusement Park. The Family Kingdom Amusement Park even features an all-day ride pass for $27.95 and don't forget to use the $3 off coupon.
There are even more savings if you don't mind doing a little work ahead of time. Are you a coupon clipper? Then, Myrtle Beach is waiting for your scissors. You can research and find coupons for activities, food, shopping and more for your entire visit. Do not forget to check out the websites for Tanger Outlets, Broadway at the Beach and Barefoot Landing for even more coupon savings. Here is an insider's tip for even more savings: Make sure to grab the coupon book on your way into Tanger Outlets before you start shopping!
Traveling to Myrtle Beach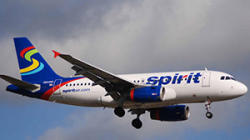 You have your hotel, itinerary and coupons; but how do you get there? If you are not driving, there are many low-cost air carriers that fly into Myrtle Beach. Do your research and see if flying or driving is the way to go for your family.
One of the great advantages to a Myrtle Beach vacation is how walkable our downtown area is. This is especially true if you are in the heart of the city near the boardwalk and beach. Even if you do not have a car with you, there are still plenty of ways to get transportation to destinations that are a little further out. Uber can be less expensive than renting a car, and you don't have to worry about parking. If you do bring your own car, we have plenty of parking options at many of our local stores, restaurants, and destinations.
With all of these tips and tricks, you can go on a vacation of a lifetime without spending your entire tax refund. We hope that you have a great trip and you make memories that last a lifetime. We know your followers will be jealous of your unfiltered beach selfies.