(MYRTLE BEACH, S.C. – July 20, 2018) – Visit Myrtle Beach and the Carolina Country Music Festival (CCMF) are pleased to announce that mega country band Alabama will perform at the 2019 festival in Myrtle Beach, South Carolina. 
Alabama's rags-to-riches story began in Fort Payne, Alabama, in 1969 when cousins Randy Owens, Jeff Cook, and Teddy Gentry decided to form a band. Their quest for audiences led them to the Bowery, a legendary bar on the boardwalk in Myrtle Beach, South Carolina. There, the band spent nearly six years in the 1970's--working for tips and honing their craft. 
In 1980, Alabama signed to a record label and broke through with their first top-20 hit, "My Home's in Alabama." From there, they went on to sell 80 million albums while changing the face and sound of country music. With long hair, rock-style guitars, lights, pyrotechnics and a loud, driving sound, many country music fans resisted the band at first. However, once they started topping the charts with amazing songs including several cross-over hits, they rose to superstardom and are now considered one of the most influential and legendary country bands in history. 
Alabama has charted 43 #1 singles including 21 #1 singles in a row, a record that will likely never be surpassed in any genre. They have won over 178 CMA Awards, ACM Awards, including a Career Achievement Award, and two Grammy Awards, to name but some of their many accolades. They've earned 21 Gold®, Platinum® and Multi-Platinum® albums, they were named the RIAA's Country Group of the Century. They are members of the Country Music Hall of Fame and have a star on the Hollywood Walk of Fame. Band members are also world-class philanthropists who have raised over 250 million dollars for charity. 
After 49 years, Alabama continues to thrill fans, and in 2019, as they roll into their 50th year, they will make a stop in Myrtle Beach for the Carolina Country Music Fest, which will take place June 6-9. On a stage adjacent to the world-famous Bowery, the band is sure to perform their smash hit, Mountain Music along with huge hits like High Cotton, Roll On Eighteen Wheeler, Love in the First Degree, Song of the South, and a regional favorite, Shaggin' On the Boulevard, referring, of course, to the dance. 
"We couldn't be more excited to have Alabama return to Myrtle Beach to grace our shores once again with their outstanding talent," said Scott Schult, Executive Vice President of Marketing for Visit Myrtle Beach. "It's just fitting that they'd celebrate their 50th year together in the place where it all began. It's the perfect setting for this nostalgic performance that we'll be proud to showcase to the thousands of fans coming in town for CCMF." 
Tickets for the 2019 CCMF are on sale now at: https://carolinacountrymusicfest.com/ 
Click here or on the image below to download the image.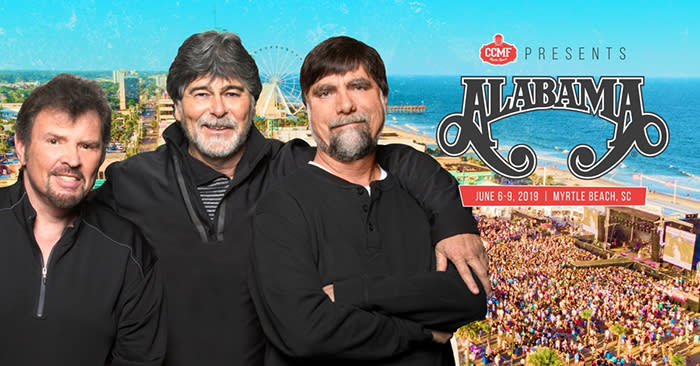 About Myrtle Beach, S.C. 
Stretching from Little River to Pawleys Island and comprising 14 distinct communities, the Myrtle Beach area is home to 60 miles of sandy beaches, an assortment of entertainment and family attractions and world-class golf. Popularly known as the Grand Strand, the Myrtle Beach area presents the quintessential vacation experience peppered with plenty of Southern hospitality. 
For additional information on the Myrtle Beach area, visit www.visitmyrtlebeach.com or call (888) Myrtle-1. 
| | |
| --- | --- |
| | SOURCE Visit Myrtle Beach |