Destination Offering a Unique Gender Reveal and Babymoon Giveaway, Lodging Packages, and More Ways to Celebrate Major Milestones This Year
Myrtle Beach, S.C. (March 18, 2019) – From weddings and new babies to retirements and anniversaries, life is about celebrating major milestones. This year, Myrtle Beach, South Carolina, is the place to commemorate these momentous occasions with a memorable vacation. Throughout March and April, Visit Myrtle Beach is offering the chance to plan a vacation around these special events with unique lodging packages, including deep discounts and add-ons to make celebrating easy, and the opportunity to win a babymoon beach vacation complete with a unique gender reveal.
"Spring is an ideal time for visiting Myrtle Beach as our warm temperatures, numerous attractions, stunning beaches, and Southern charm invite visitors to emerge from the cold winter and enjoy time making memories together," said Karen Riordan, President, and CEO of Visit Myrtle Beach. "Travel is the perfect way to celebrate life's major moments and this spring, our campaign showcases opportunities visitors have to commemorate these milestones in a special way."
For parents-to-be, Visit Myrtle Beach is offering a special opportunity to capture a significant major milestone – the reveal of their baby's gender. Couples can enter to win a Myrtle Beach babymoon vacation to relax and unwind before their new arrival that includes a special gender reveal at the 187-foot tall SkyWheel, which will light up in blue or pink. Those looking to celebrate a special romantic occasion such as honeymoons and anniversaries can also enter to win an exceptional vacation for two. To enter either sweepstake, visit https://www.visitmyrtlebeach.com/milestones.
Myrtle Beach area resorts and hotels are also offering exclusive travel deals and packages this spring geared towards visitors celebrating special occasions. The Marina Inn at Grande Dunes is offering a Couples Anniversary Grande Devotion Package that includes luxurious accommodations for two nights; sparkling wine & chocolate-covered cherries delivered after check-in; two cocktails at Reflections; a three-course dinner for two at their award-winning Waterscapes restaurant; and breakfast for two each morning. Vacation Myrtle Beach is offering a Pick 3 Package at any of their twelve resorts where guests can customize their celebration vacation by choosing extra amenities from wine tastings and game cards to breakfast for two. The Caribbean Resort & Villas is offering a Babymoon Celebration Package including 35 percent off of a three-night stay, a $200 Mist Spa credit, and $100 credit at the Sea Captain's restaurant.
For additional spring travel deals, visit https://www.visitmyrtlebeach.com/hotels/deals/spring/
Click the images below to download.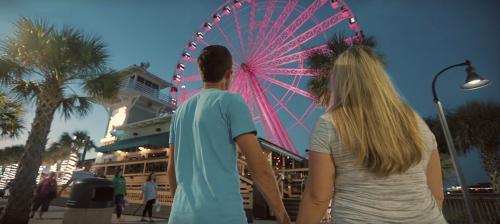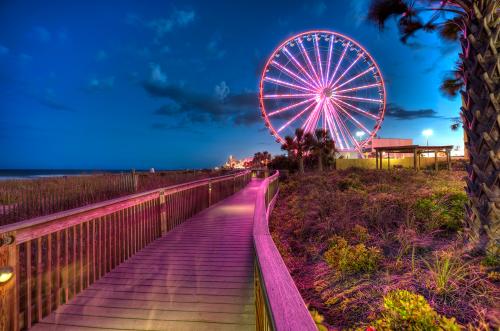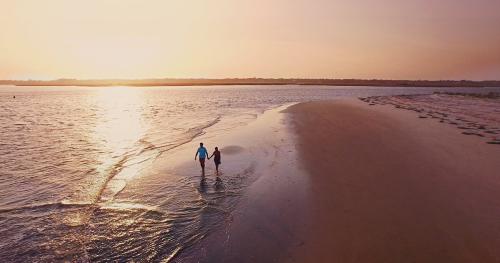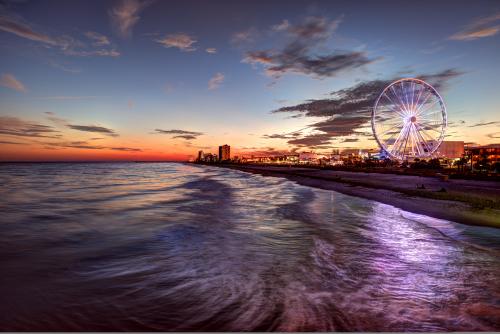 For more information on the spring celebration campaign, the area's attractions and activities ideal for commemorating major milestones, or to book a trip to the Myrtle Beach area, go to www.VisitMyrtleBeach.com.
About Myrtle Beach, S.C.
Myrtle Beach isn't just a beach. It's The Beach. Popularly known as the Grand Strand, Myrtle Beach is one destination made up of 14 unique communities that stretch 60 miles along the northeast coast of South Carolina. Families, couples, and those in search of a warm welcome will find more than just a day at The Beach when they come together to connect and enjoy vibrant entertainment and family attractions, including world-class golf, shopping, and fresh coastal Carolina cuisine. From the moment you arrive, you'll find you belong at The Beach – Myrtle Beach, South Carolina. For additional information on tourism offerings in the Myrtle Beach area, visit www.visitmyrtlebeach.com or call (888) Myrtle-1.
Media Contact:
Ann Marcum
Fahlgren Mortine
614.383.1634
Ann.Marcum@Fahlgren.com