The City of Myrtle Beach joins its sister community, Surfside Beach, as an official Autism Friendly Destination
Myrtle Beach, S.C. (October 15, 2018) – The Myrtle Beach area of South Carolina and Champion Autism Network (CAN) has achieved another huge milestone for inclusive travel, with its central hub – the City of Myrtle Beach – earning the Autism Friendly Destination designation. This follows one of the area's smaller beach communities, Surfside Beach, earning the first-ever designation of any destination in 2016.
"The Myrtle Beach area is known as America's family beach, and accommodating the needs of all types of families is a top priority," said Karen Riordan, president and CEO of Visit Myrtle Beach. "Our partners have worked tirelessly behind the scenes to ensure families traveling with children on the autism spectrum are treated with empathy and respect, and that they have the opportunity to create lasting memories on vacation. We remain proud of what CAN and Surfside Beach started, and couldn't be happier that the official designation has extended to the City of Myrtle Beach."
As part of the designation, Myrtle Beach area restaurants and attractions will continue collaborating with CAN to train staff to spot and react to autism-related challenges, offer sensory-friendly programming and events, and create unique perks to ensure that the area remains a seamless vacation option for families. A CAN card is available to families, free of charge, providing a quiet and dignified way to alert businesses of their special needs. The card enables them preferential seating at restaurants like Johnny D's Waffles and Bakery, and to jump the line at often crowded attractions like the SkyWheel.
Spearheaded by local mother Becky Large, CAN was formed to help alleviate the barriers some families experience when trying to do what should be a simple and enjoyable task: planning and enjoying a family vacation. With a son on the autism spectrum, Large knew the challenge of unpredictable outbursts and overstimulation – and most importantly, the way others' judgement can hinder a parent's decision to take their children away from home. Her efforts have been integral in creating a safe and judgement-free zone for families impacted by autism.
"The more support, understanding, awareness and involvement our families can have the better off we all are," said Large, executive director of CAN. "With the support of our surrounding community, we look forward to serving those impacted by autism in and around the Grand Strand."
Other autism-friendly options for those on the spectrum include a Quiet Room at the Myrtle Beach International Airport, where passengers can decompress in the baggage claim area after a long flight. There is also a CAN Film Festival in Myrtle Beach, next scheduled for October 2019, exclusively featuring films by or about people with autism. Savannah's Playground, the southeast's first enabling playground, is another must-stop for families seeking inclusive activities. For more details on planning your sensory-friendly Myrtle Beach getaway, go to VisitMyrtleBeach.com or ChampionAutismNetwork.com.
Click here or on the image below to download the image.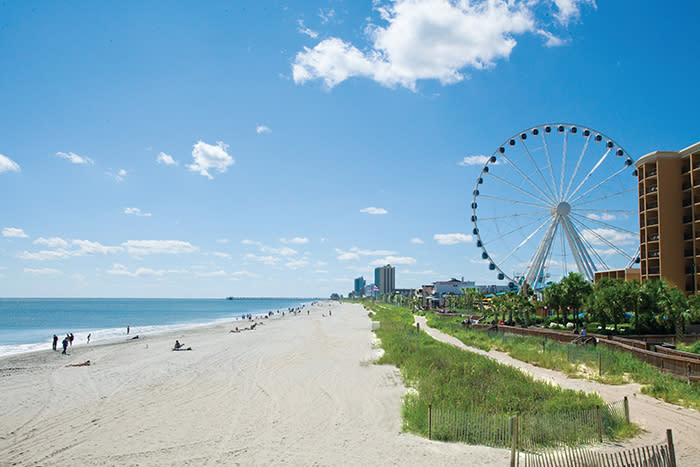 About Myrtle Beach, S.C.
Stretching from Little River to Pawleys Island and comprising 14 distinct communities, the Myrtle Beach area is home to 60 miles of sandy beaches, an assortment of entertainment and family attractions and world-class golf. Popularly known as the Grand Strand, the Myrtle Beach area presents the quintessential vacation experience peppered with plenty of Southern hospitality. For additional information on the Myrtle Beach area, visit www.visitmyrtlebeach.com or call (888) Myrtle-1.
| | |
| --- | --- |
| | SOURCE Visit Myrtle Beach |