Visit Myrtle Beach Encourages Travelers to Follow New Guidelines and Visit the Destination Responsibly
Myrtle Beach, S.C. (July 2, 2020) – As the July 4th holiday weekend approaches, Visit Myrtle Beach and its partner organizations remind travelers to visit responsibly by following requirements established to promote health and safety. To limit the spread of the virus and keep the area's many attractions, restaurants, hotels and beaches open, several areas throughout the destination enacted mask mandates for locals and visitors of the Myrtle Beach area ahead of the holiday weekend.
"While we're pleased that so many have visited our destination since reopening, it is apparent that not everyone has taken the necessary precautions to protect themselves or others. To be clear, destinations don't spread viruses, people do," said Karen Riordan, president and CEO of Visit Myrtle Beach. "We are open and have welcomed thousands of visitors who have had enjoyable, healthy and safe vacations in our destination, but it is essential that we remain diligent. No matter where you are in the Grand Strand, it is important that visitors and locals wear a mask when in public spaces and continue to practice social distancing. It takes each one of us to limit the spread of this virus to ensure we can live, work and vacation together in the future."

Cities within the Myrtle Beach area, and across South Carolina, have mandated that masks now be worn in public spaces including stores, common areas of restaurants and accommodations, and public spaces where social distancing cannot be followed. Masks are not required on beaches as long as beachgoers maintain social distancing. Additional information on mask mandates across the area can be found at https://www.visitmyrtlebeach.com/plan/visitor-resources/healthy-travel-information/.
"There are reportedly cases involving large groups of students that have contracted the virus after not taking proper precautions and social distancing while in our area," Riordan stated. "Because it is not possible to know where those cases originated; whether the individuals contracted the virus while traveling to or from our area, somewhere in our community, or if they were already infected with the virus before traveling to our area, it is imperative that we all remain diligent and take the necessary steps to protect ourselves and others."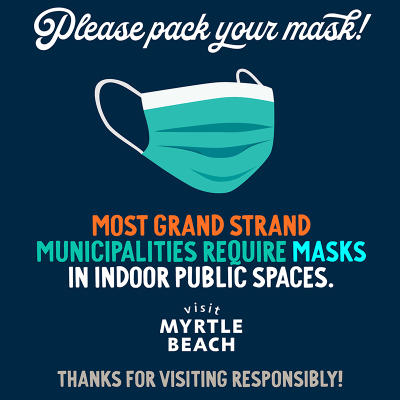 Currently Horry County, which includes many municipalities within destination including the city of Myrtle Beach, accounts for 9.4% of positive cases statewide as of June 30, 2020. The mask mandates have been established to help limit the spread of the virus in the Myrtle Beach area and to keep the virus from coming into the destination.
To provide additional information on how visitors and locals can do their part to ensure everyone remains healthy and safe, Visit Myrtle Beach created a Visit Responsibly campaign. This includes the Healthy Travel page at VisitMyrtleBeach.com, which includes tips from the CDC, the latest details on business that are open (or closed), and COVID-19-related news and updates from South Carolina, Horry County and the many cities through the Grand Strand. The page also includes information on the new mask mandates. Visit Myrtle Beach also developed a series of videos and blogs posts showing specific ways in which visitors can enjoy the destination while following the recommended guidelines, including posts on fun ways to enjoy social distancing in Myrtle Beach.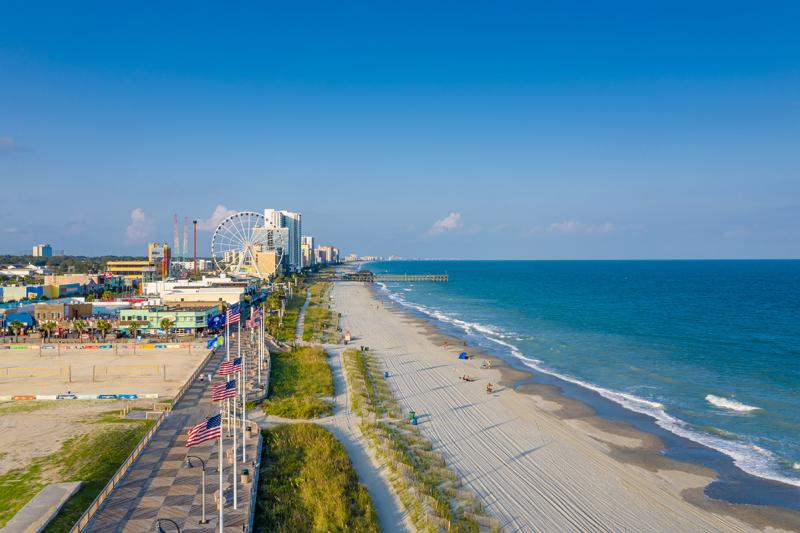 Visitors are encouraged to join residents and local businesses to pledge to support the health of others and keep area businesses open by signing the Greater Grand Strand is Open initiative's Greater Grand Strand Promise. This initiative encourages both locals and visitors to commit to protecting the health of others through the Greater Grand Strand Promise. Many area businesses including attractions, restaurants and accommodations throughout the area have implemented new safety protocols and have signed the Greater Grand Strand Promise.
For more information about the many ways Visit Myrtle Beach is encouraging travelers to stay healthy and visit responsibly, visit https://www.visitmyrtlebeach.com/plan/visitor-resources/healthy-travel-information/.
About Myrtle Beach, S.C.
Myrtle Beach isn't just a beach. It's The Beach. Popularly known as the Grand Strand, Myrtle Beach is one destination made up of 14 unique communities that stretch 60 miles along the northeast coast of South Carolina. Families, couples, and those in search of a warm welcome will find more than just a day at The Beach when they come together to connect and enjoy vibrant entertainment and family attractions, including world-class golf, shopping, and fresh coastal Carolina cuisine. From the moment you arrive, you'll find you belong at The Beach – Myrtle Beach, South Carolina. For additional information on tourism offerings in the Myrtle Beach area, visit www.visitmyrtlebeach.com or call (888) Myrtle-1.
Media Contact:
Ann Marcum
Fahlgren Mortine
614.383.1634
Ann.Marcum@Fahlgren.com