Destination Welcomes Back Visitors After Hurricane with 60-hour Itineraries  for Maximizing Vacation Time in Myrtle Beach
Myrtle Beach, S.C. (September 9, 2019) – With autumn right around the corner, Myrtle Beach, South Carolina is inviting visitors to stretch their summer by enjoying a fall getaway along its 60 miles of beautiful coastline. The destination is helping visitors extend their vacation season by offering 60-hour itineraries to make planning and making the most of a visit to the area even easier. With mild temperatures, fewer crowds and lodging options offering more value for the money, fall is the perfect time to take in all the destination has to offer.  
"No matter what type of trip you're looking for, the fall is the perfect time to extend your vacation time by visiting Myrtle Beach," said Karen Riordan, president and CEO of Visit Myrtle Beach. "Fortunately, our area was spared from the full impact of Hurricane Dorian, and as a destination, we are ready to invite visitors this fall to experience our beautiful beaches, ocean-to-table culinary offerings, year-round attractions and Southern hospitality."
Below are a few highlights from the various 60-hour itineraries available for visitors. A full listing can be found here: https://www.visitmyrtlebeach.com/things-to-do/fall-getaway-guide/
Click on the image below to download.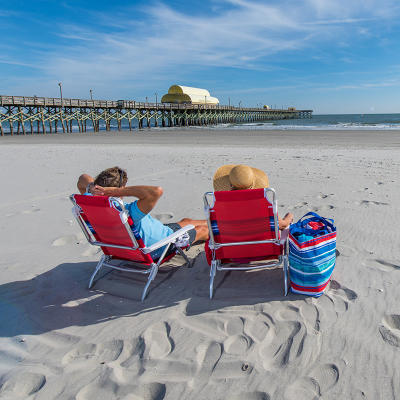 For more details on planning your Myrtle Beach getaway this fall, go to VisitMyrtleBeach.com.
About Myrtle Beach, S.C.
Stretching from Little River to Pawleys Island and comprising 14 distinct communities, the Myrtle Beach area is home to 60 miles of sandy beaches, an assortment of entertainment and family attractions and world-class golf. Popularly known as the Grand Strand, the Myrtle Beach area presents the quintessential vacation experience peppered with plenty of Southern hospitality.
About Myrtle Beach, S.C.
Myrtle Beach isn't just a beach. It's The Beach. Popularly known as the Grand Strand, Myrtle Beach is one destination made up of 14 unique communities that stretch 60 miles along the northeast coast of South Carolina. Families, couples, and those in search of a warm welcome will find more than just a day at The Beach when they come together to connect and enjoy vibrant entertainment and family attractions, including world-class golf, shopping, and fresh coastal Carolina cuisine. From the moment you arrive, you'll find you belong at The Beach – Myrtle Beach, South Carolina. For additional information on tourism offerings in the Myrtle Beach area, visit www.visitmyrtlebeach.com or call (888) Myrtle-1.
Media Contact:
Ann Marcum
Fahlgren Mortine
614.383.1634
Ann.Marcum@Fahlgren.com