What's New for Meeting in Myrtle!
What's New for Meeting in Myrtle!
The Myrtle Beach Area of South Carolina proves to be an ideal location for group meetings due to its wide, sandy beaches, amazing culinary options, boutique shopping, and multiple attractions that are sure to entertain visitors of any age. One of the best things about the Grand Strand? It is always evolving, so from year to year, you'll find exciting new projects that keep the location fresh and interesting.
Here are some of the latest new developments:
Activities & Attractions
Cultural Arts Center in Downtown Myrtle Beach
The City of Myrtle Beach and Coastal Carolina University (CCU) have entered into an agreement to purchase property that will be turned into a new cultural arts center and theater in downtown Myrtle Beach. The center will be located in what is now three properties in the downtown area of Myrtle Beach along Highway 501. The space will include a 300-seat theater, art gallery, reception area, dressing rooms, and rehearsal space. It will be used for performing arts classes by CCU students as well as allow the city to host up to 30 productions per year. The theater is expected to open in the spring of 2022.
Myrtle Beach Mall Plans for The District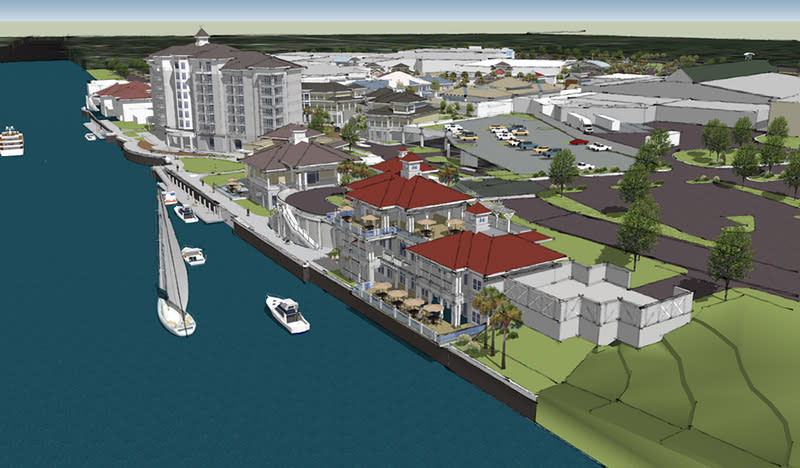 The Myrtle Beach Mall is proceeding with its $150 million redevelopment for a new retail and restaurant space named "The District". Current plans include new waterfront restaurants, sports bars, additional shopping areas, clubs, and a boutique hotel. Renderings also include a promenade and garden in the middle. A construction date has not yet been set. 
The Hangout at Broadway at the Beach
Broadway at the Beach will add a new restaurant, retail and entertainment venue to its Entertainment District, called The Hangout. The new venue is currently under construction at the southeast corner of the property. The Hangout will become a new gathering place for great food and family fun, offering seasonal seafood dishes, beachside burgers, sandwiches and tacos, appetizers and sides made from locally sourced ingredients prepared from scratch in a world-class hi-tech kitchen designed to handle thousands of diners daily. It will also offer live music year-round both on indoor and outdoor stages. 
American Surf Parks
Myrtle Beach will soon be home to South Carolina's first man-made surf park, called American Surf Park. The park's surfing lagoon will generate up to 1,000 waves per hour, with waves between 2-6 feet in height. The development will also include an amphitheater to accommodate up to 15,000 people. Preliminary renderings of the park have been completed and the building is expected to begin in 2021.
Pro Football Hall of Fame, "Gridiron Glory, The Best of the Pro Football Hall of Fame"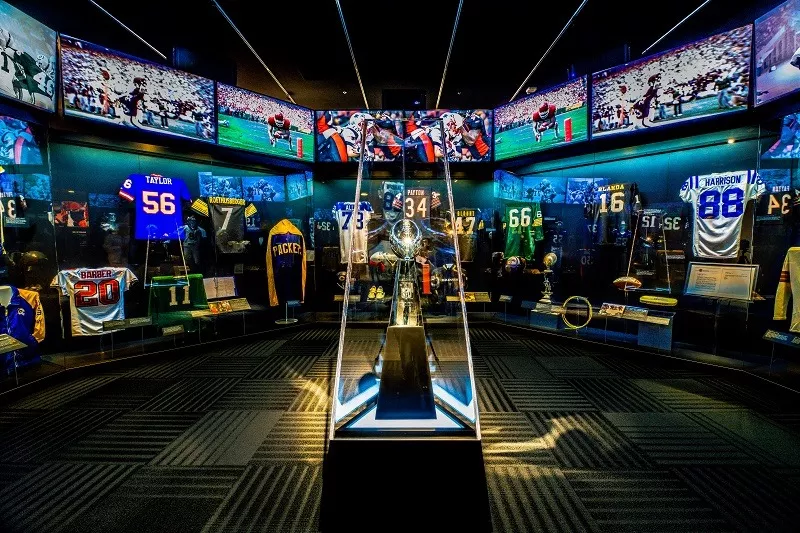 "Gridiron Glory" will open at Broadway at the Beach in early July and house more than 200 artifacts, such as a leather helmet and jerseys, and photos from various players in the Pro Football Hall of Fame. The exhibit will be organized to tell the story of the early stages of NFL football to where it is today, including the stories of Pro Football Hall of Famers Red Grange, Dick Butkus, Joe Namath, Bart Starr, Tom Landry, Joe Montana, John Elway and many other giants of the game. 
SkyWheel Upgrades
SkyWheel Myrtle Beach has recently undergone a major makeover to celebrate the iconic attraction's 10th birthday. The SkyWheel makeover included a new wheel structure, refurbished interiors and exteriors of its 42 gondolas, and most noteworthy, a new state-of-the-art lighting system allowing for more dynamic light shows. The SkyWheel reopened in May 2021.
Hot Jersey Nights Christmas Special
Come see the Grand Strands newest Holiday show, Hot Jersey Nights Christmas Special! Experience the very best and most loved Frankie Valli and the Four Seasons Songs of all time with a mixture of all the Holiday Classics you could ever wish for. Take a walk down memory lane with four of the very best Male Vocalists in America as they join together in a Christmas Wonderland onstage to sing all their Hit Songs including, Walk Like a Man, Candy Girl, Jingle Bells, White Christmas, Big Girls Don't Cry, My Eyes Adored You and of course 'Oh What a Night', which is exactly what you will have!
Funplex Amusement Park
Funplex is designed for families and thrill seekers alike. The new tropical themed park is lined with palm trees, features seven rides, a walk-up bar and restaurant. This attraction also features "Mach Fun", the tallest, interactive 360° jet simulator ride on the market, and first-of-its-kind in North America. 
Aviation & Transporation
Myrtle Beach Airport Taxiway Project
Due to a grant from the Federal Aviation Administration, Myrtle Beach International Airport (MYR) will be restoring its taxiway. The taxiway, which takes airplanes from the terminal to the runway, has begun pavement rehabilitation on Taxiway A and will take about a year to complete as part of the Horry County Department of Airports' multiyear, multiphase project to restore its runway system. This project will keep the airport in compliance with FAA standards and prepare MYR for continued aircraft operational growth in the years to come. The project will not interfere with flight operations as most of the work will be done at night.
New Flight Routes with Southwest Airlines, Frontier Airlines, Delta Airlines, Spirit Airlines and United Airlines
Southwest Airlines announced ten (10) new nonstop destinations from the Myrtle Beach International Airport (MYR) beginning daily May 2021. United Airlines and Frontier Airlines added three new nonstop destinations each, Delta Airlines added two destinations, and Spirit Airlines added four destinations all with nonstop service to MYR. For more information on specific flights and destinations, visit our website. 
Culinary
Grand Strand Brewing Company
The two-story building that fronts Nance Plaza in the soon-to-be-revitalized downtown area is now home to Grand Strand Brewing Company. The brewery produces a variety of handmade beers available in its taproom. There is also a small, on-site commercial kitchen where local chefs and restaurants can prepare food to pair with the craft beer selection. Grand Strand Brewing Company opened in March 2021 with outdoor seating and entertainment.
Crooked Hammock Brewery
A new brewery is open in Barefoot Landing featuring a restaurant and backyard beer garden. Crooked Hammock Brewery brings to life an all-ages backyard escape that features craft beer, indoor/outdoor seating for more than 500 guests, firepits, hammocks, a playground for kids, bocce ball courts, corn hole, and a bar that is set over the lake. Crooked Hammock Brewery's restaurant features backyard cookout-inspired food such as burgers, oak-smoked baby back ribs, giant Bavarian pretzels, and savory sides such as jalapeno and cheddar cornbread, all in a pet-friendly environment. There is also a food truck on the premises! 
Nola'z New Orleans Dueling Piano Bar and Eatery
Myrtle Beach's second dueling piano bar is opening near the ocean and the Myrtle Beach Boardwalk, in the former home of Gordo's Tacos and Tequila. Nola'z will have dueling green and purple pianos that will be heard from both inside and outside dining. The food options are Cajun and New Orleans inspired, ranging from etouffee and gumbo to alligator bites and speciality bloody mary's.
Mojo's Marina Bar & Grille 
Mojo's Marina Bar and Grille is a new addition to Murrells Inlet waterfront restaurants. Guests can enjoy panoramic views of the inlet while sipping a freshly made mojito and selecting from the restaurant's diverse menu, ranging from local seafood to delectable southern dishes.
Earth Cage
The Earth Cafe is a swanky and hip new cafe located on North Kings Highway and 38th Ave. N offering organic, fresh and real ingredients. Open for breakfast and lunch daily, their menu is full of vegetarian, vegan and gluten free options.
Lodging
Springhill Suites and Courtyard Marriott
A new dual-branded offering by Marriott is coming to Myrtle Beach's Ocean Boulevard. The new Springhill Suites and Courtyard by Marriott property will replace the recently demolished Breakers Resort near 21st Avenue North. Renderings show the new oceanfront resort will stand 26 stories tall and include rooftop amenities, including outdoor seating complete with fire pits. Additional outdoor amenities include a ground-level pool and a lazy river. Plans for the property are in development and approval. Full completion of the project is scheduled for the spring of 2022. 
Ocean Escape Condos by Landmark Resort
Ocean Escape Condos by Landmark Resort is now open and features brand-new, second row condos, just steps from Landmark Resort's main building. One of the newest accommodation options in Myrtle Beach, Ocean Escape is home to two and three bedroom condos with new appliances, furniture, bedding, flooring and more. The new condos come equipped with free Wi-Fi, full kitchens, spacious living space and more. With many of the accommodation units sleeping up to 10 people, there's plenty of space for the entire family.  And, families will enjoy additional nearby amenities including indoor/outdoor pools, lazy river, whirlpool, hot tub, swim-up bar, restaurants, an arcade, and seasonal entertainment and activities. 
Kingston Resorts Multi-Phase Transformative Renovation and Repositioning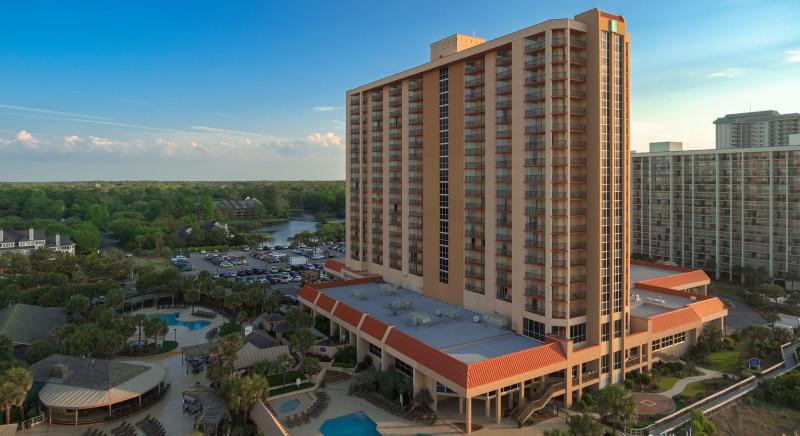 Kingston Resorts encompasses two premium-branded full-service resorts, Embassy Suites Myrtle Beach Oceanfront Resort and Hilton Myrtle Beach Resort, as well as more than 1,600 residential condominiums and townhomes. The 157-acre beachfront campus boasts direct access to the Atlantic Ocean and features 100,000+ square feet of meeting and event space. Hilton Myrtle Beach Resort, located along Myrtle Beach's beautiful and spacious Grand Strand, has been transformed with a $20 million renovation. This 387-room oceanfront destination offers a stunning new open-air gathering space. The transformation continues with a $30 million renovation to Embassy Suites Myrtle Beach Oceanfront Resort that will be complete in early 2022. The oceanfront is being reimagined with a new pool deck, Brewhouse with garden terrace, a multipurpose lawn with games and firepits and a children's waterpark. This ambitious project refreshes a legacy on the Grand Strand and advances it to the next level.