Walk Myrtle Beach: Top 10 Spots for a Fall Weather Stroll
Walk Myrtle Beach: Top 10 Spots for a Fall Weather Stroll
This past week, temperatures cooled some, making it perfect weather for a long walk. While a stroll on the beach will always top our list of favorite vacation activities, there are so many other wonderful places along the Grand Strand to explore on foot. We have put together a list of some of our favorite outdoor walking trails below:

The Market Common
Just a few blocks from the beach, The Market Common is a wealth of recreation, including walking, biking and fitness trails, as well as playgrounds. A fitness trail with workout equipment is found along the mile-long walking path around Grand Lake while the A-10 mountain biking loop provides 1.4 miles of twists and turns. There is plenty of free parking, and fun shops and restaurants nearby as well.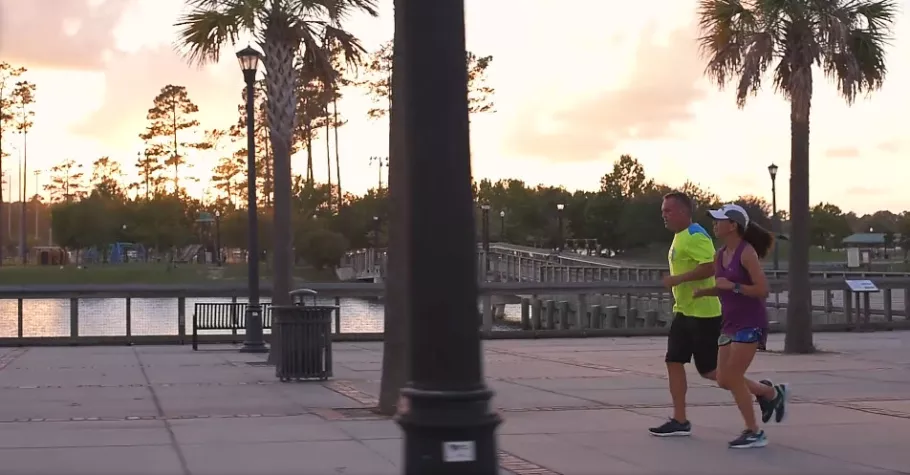 Myrtle Beach State Park or Huntington Beach State Park
Either one of our two South Carolina State Parks are perfect for a day of exploring on foot. While there is a small admission, there are miles and miles of trails to explore between the two parks and hundreds of species of all sorts of animals. Huntington Beach State Park (located in Murrells Inlet, SC) is really popular with birders, while the maritime forest of Myrtle Beach State Park is a real treasure, especially as it's located so close to central Myrtle Beach.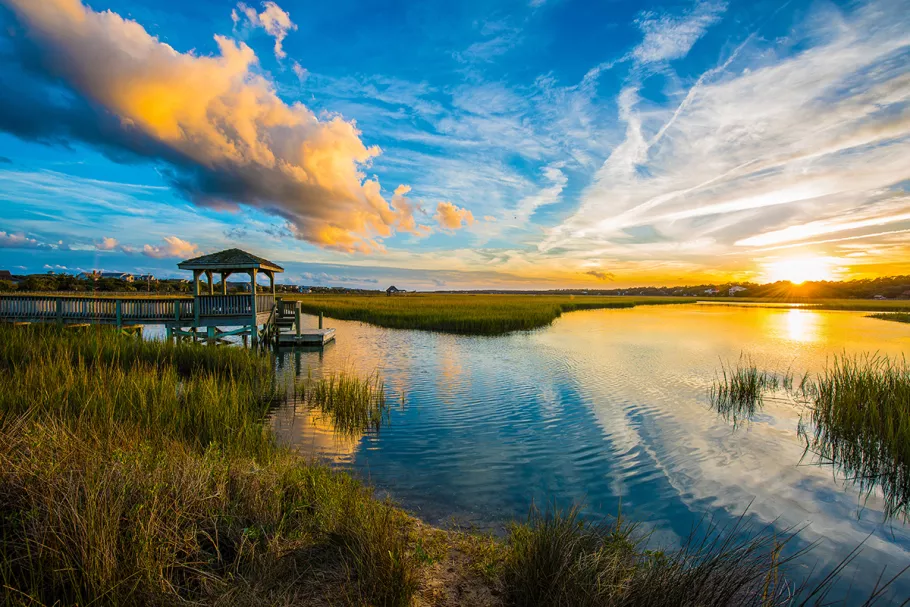 Brookgreen Gardens
This scenic attraction is home to the largest outdoor collection of American figurative sculpture in the world, so it's perfect for those looking for flora, fauna and art. Established on the site of 9 former rice plantations, Brookgreen Gardens is a must-see for its Lowcountry landscape and memorable collection. There is a fee for admission, but it's well worth every penny.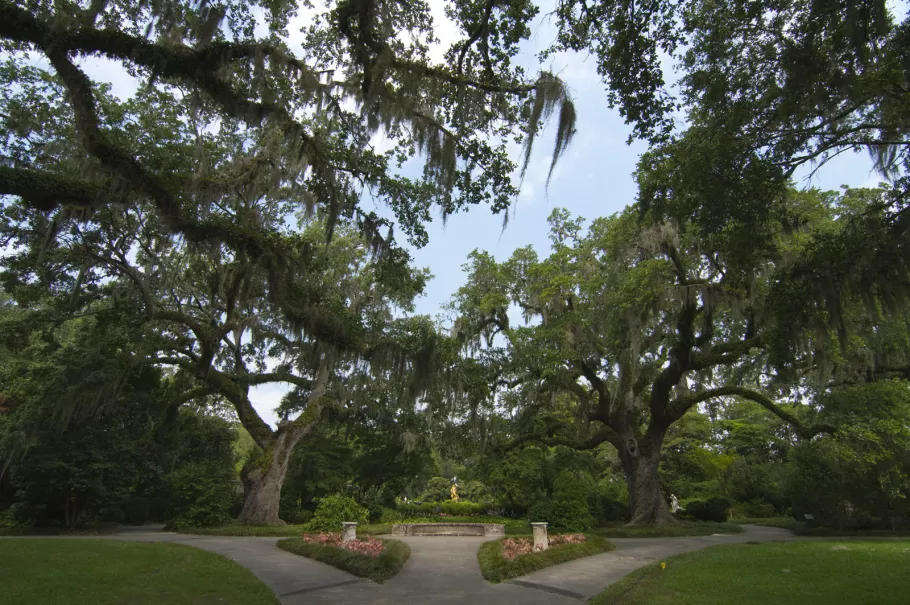 Vereen Historic Memorial Gardens
Vereen Memorial Gardens has long been a "hidden gem" for locals on the north end. The park features about three miles of hiking trails and wooden boardwalks that extend across beautiful salt marshes and tiny islands. My best friend was married here a few years ago, near a lovely gazebo that overlooks the Intracoastal Waterway, and it will always be one of my favorite places to go for a walk. It's free to visit and located at the intersection of US #17 and SC #179, just south of the NC state line.

Downtown Conway Riverwalk
The 1.5-mile Conway Riverwalk provides scenic waterfront access to the black waters of the Waccamaw River. The Cypress knee-lined waters are a sight to see year-round, and the area also serves as a spot for a number of community festivals and events. If you're looking for a walk steeped in history and beauty, this is one for you. It's proximity to historic downtown Conway and the small town's shops and restaurants it just an added bonus.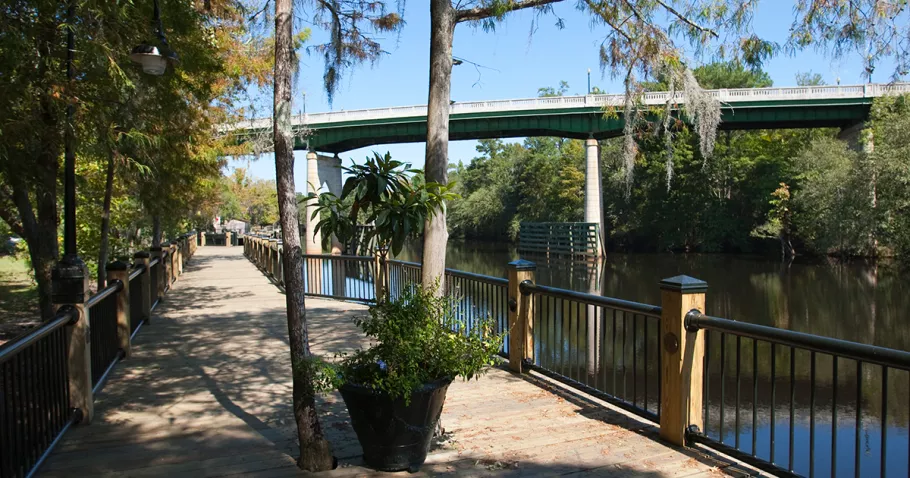 Waccamaw National Wildlife Refuge
The refuge is about 30,000 acres total and includes large sections of tidal emergent wetlands, forested wetlands and upland forests associated with the Waccamaw and Pee Dee Rivers. The location I most frequently visit is the Cox Ferry Lake Recreation Area. This area is about 325-acres (of the 30,000) located on W. Cox Ferry Road, in Conway, S.C. It offers three miles of interpretive nature trails, a mountain biking trail, boardwalk, kiosks and a weather shelter with picnic tables. Our (leashed) dogs love it, too!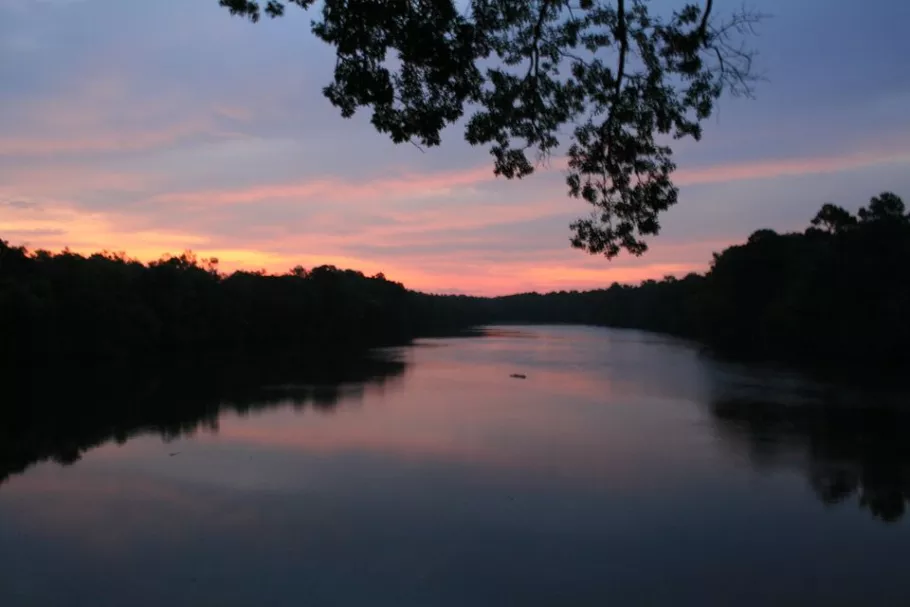 North Myrtle Beach Park and Sports Complex
The NMB Park and Sports Complex is a hub of activity. It's the home of Shark Wake Park, a number of ball fields, playgrounds and a dog park. But it's also home to 3 walking/running/biking trails! You can explore 3.5 miles of trails (both paved and natural) and see a 20-acre Carolina Bay. The park complex is free to visit and located at 150 Citizens Circle in Little River, S.C.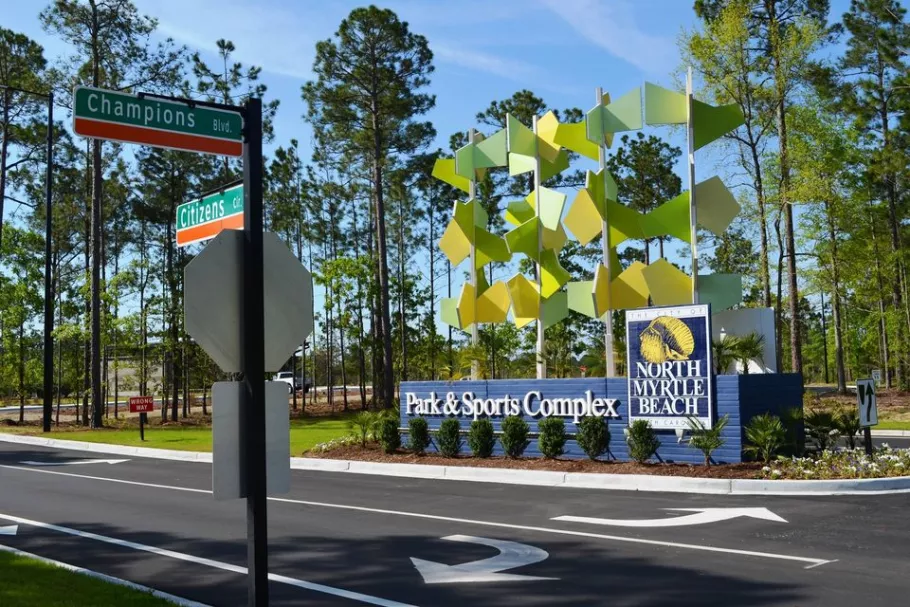 Murrells Inlet Marshwalk
If you're looking for a shorter, scenic walk, where you could stop for a refreshment, then the Murrells Inlet Marshwalk is the place for you. The half-mile boardwalk is one of the most pleasant strolls along the Grand Strand, thanks to the stunning vistas of the marsh. The boardwalk lines several fantastic bars and restaurants, so it's fun place to turn an afternoon stroll into a night out.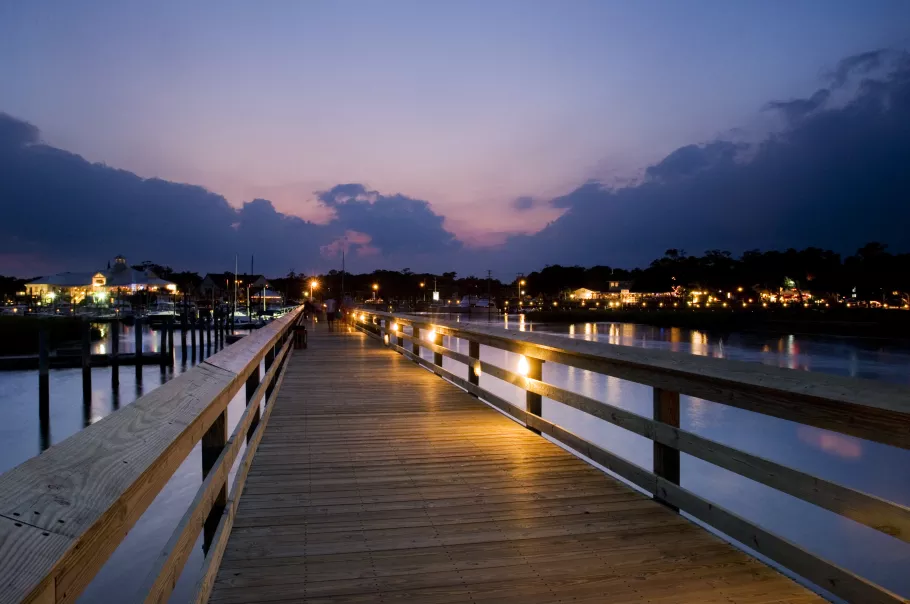 Horry County Bike Run Park (aka HULK)
"The Hulk" is a 7-mile trail that twists and turns across 72 acres of land, located between Carolina Forest and the Intracoastal waterway. While the park is wildly popular with local and visiting mountain bikers, it's also a really fun area to go for a run. I wouldn't plan on a leisurely stroll at this park, but those looking for a faster paced workout will surely enjoy!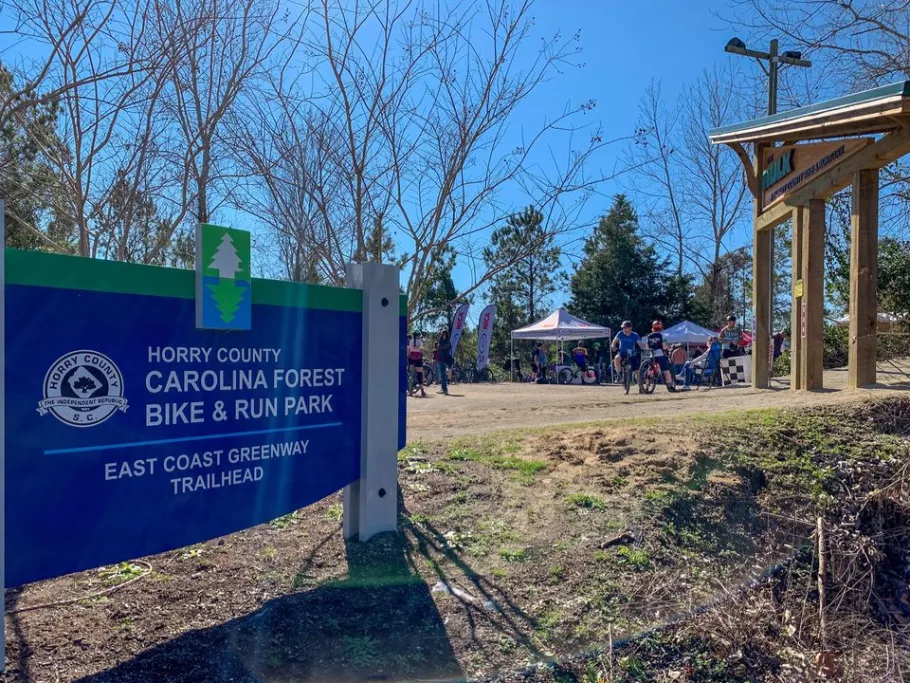 Heritage Shores Nature Preserve
For guests staying in Cherry Grove or North Myrtle Beach, this nature park is a fun spot to explore any time of day. It's next to a boat landing and picnic area. The interpretive trail is a combination of boardwalks and observation areas and most of the time spent walking will provide some view of the water. There is always plenty of parking and it's free to visit. The preserve is located at 5611 Heritage Drive in North Myrtle Beach. Learn more.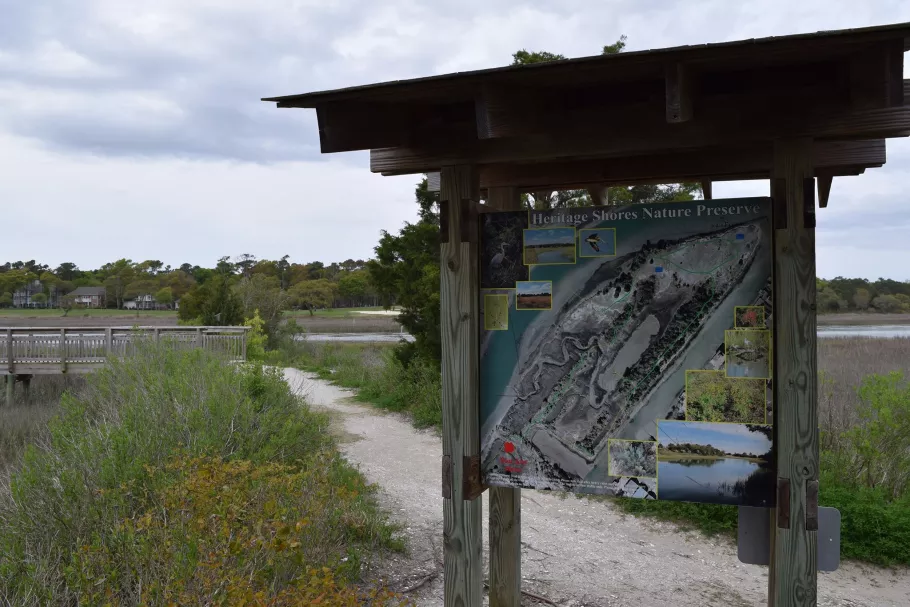 Click here for more Outdoor Activities in the Myrtle Beach area.