Virtual Myrtle Beach: Educational Resources for Beach-loving Kiddos at Home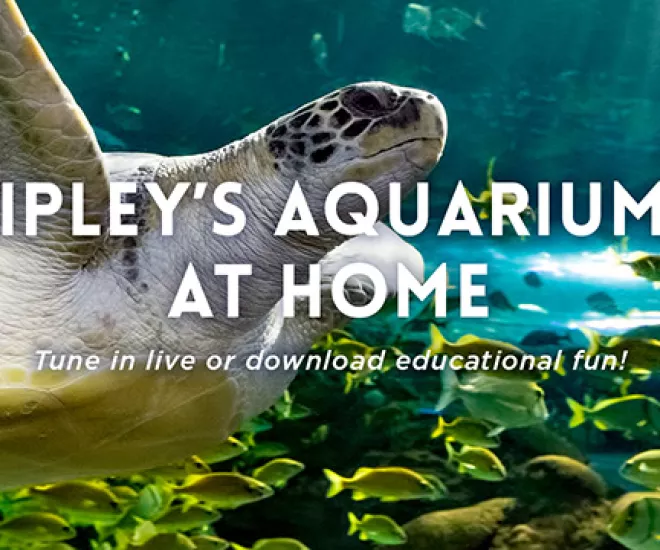 Virtual Myrtle Beach: Educational Resources for Beach-loving Kiddos at Home
Schools in the Myrtle Beach area haven't been in session for about two weeks now, and we're starting to settle into a 'homeschool' routine that works for us. I'm home with a 5- and 2-year-old, along with a newborn, so hands-on crafts and learning aren't possible at every single moment during the day. During times when I need to change diapers, prepare meals or just need a break, we've turned to some 'virtual learning.' The boys enjoy the change—i.e. not hearing mom talk for a while—and we've gotten to see some pretty neat things! We have a few really great resources provided by area attractions that we've been utilizing in the past week or so and thought we would share for anyone else attempting this 'school at home' thing. 
Ripley's Aquarium has two fun things we like to check out. The first is their Live Penguin Cam. Ripley's added this amazing penguins exhibit over the winter that opened to the public a few weeks ago. Sadly no one is able to visit in person right now, but we are checking in on them from time to time via their penguin cam! Ripley's Aquarium also has a page on their website sharing a schedule of 'Ripley's Aquarium At Home' activities. They keep a weekly schedule linking to all the live content they have planned for kids during the week. Some examples for this week include: Story Time Live!, Feeding Time Live: Piranhas, Animal Spotlight: Shiny Crab, Marine Biologist Q&A and more. 
The Myrtle Beach Art Museum typically offers fantastic youth art programs throughout the year. But during this quarantine season, little artists can take advantage instead of their free KidsArt classes and tutorials being posted online. They currently have a marbling paper activity for toddler ages, a paper weaving activity for kids age 5 to 12 and a virtual early art program exploring the question 'Is a bubble a ball?' 
Currently both of our state parks (and all South Carolina state parks) are closed at least through April 30. This makes us so sad as they are two of our favorite places as we head into the Spring! Thankfully, the awesome state park rangers put together some fun 'Jr. Ranger Games' on their website. Here parents can find some printable activities and coloring pages for little ones at home. The South Carolina State Parks Facebook page is also sharing some great live video content, including guided crafts and live educational lessons with rangers.
 
EdVenture Myrtle Beach would also be top of our list to visit on our Spring Break if we weren't quarantined. This children's museum has an aerospace theme and is one of my kids' favorite places. They are obviously closed temporarily right now but sharing some great educational material online via their Facebook page.  Both of my boys have enjoyed their 'Today's Play' videos, which are educational and engaging and have prompted some great discussions.
 
The outdoor portions of Brookgreen Gardens remain open, but we still haven't left home beyond a once weekly grocery trip. Thankfully, we've been able to keep up with them online. Their Facebook page is a fun follow for beautiful photos of the gardens this time of year, and we were able to find some kids' activities shared by their Creative Education Department on their website. We're focusing on 'spring' as our homeschool theme this week, so the 'Get Down To The Root!' activity will be perfect.