Nightmare Haunted House - New Zombie Zone for 2016! $1 Off Before 7 p.m.
Jan 1, 2016 - Dec 31, 2016
$1 off before 7 p.m. New for 2016 Zombie Zone Undead Adventure.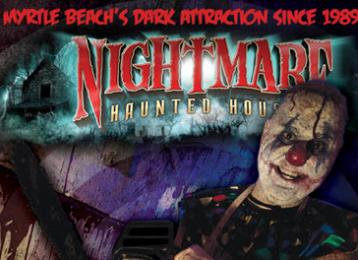 1001 North Ocean Blvd. Myrtle Beach, SC 29577
Beyond these weathered doors resides the very place in your worst nightmares where evil dreams become stark reality. This is the place where horror plays hide-and-seek with the reluctant dreamer. In and out of total darkness, you find yourself shivering with terror. The morbid, raspy giggle of a zombified clown. You can't be sure what lurks ahead or behind...Above or below.