Myrtle Beach Speedway $19.99 Pace Car Ride, $49.99 Ride Alongs, Drives Starting at $199.99
Apr 1, 2016 - Dec 31, 2016
Walk ups welcomed. Pace Car Rides. Ride Passenger with a REAL Race Car Driver. Drive a real NASCAR. Drive by yourself. No instructor with you. In car radio communications. Passing allowed. Monday-Saturday.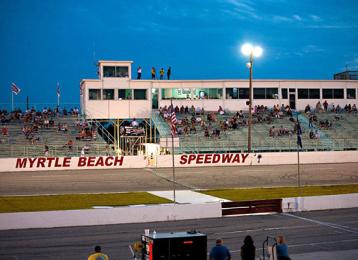 455 Hospitality Lane Myrtle Beach, SC 29579
Myrtle Beach Speedway has become the training grounds for some of NASCAR's biggest stars including names like Dale Earnhardt Jr. Four generations of Pettys and Three generations of Earnhardts have all taken a green flag at the Myrtle Beach Speedway.